Lewis Associates e-Newsletter
Volume 7 Issue 9
September 2008
Published by Lewis Associates. Dr. Cynthia Lewis, PhD., Editor
Email imaclewis@lewisassoc.com with your comments. Enjoy!

End of summer and beginning of fall is an exciting time, usually full of energy. It is the beginning of the academic year cycle for most people.
What's inside:
Welcome to Success Stories Newsletter!
How to Communicate With Us
Changes in Services
Your journey to a health profession
Are You Ready for the Class of 2009?
Testimonials
Track Record
Be Competitive
Getting Started

News:
Two New Osteopathic Medical Schools Open Their Doors in 2008
2009 AACOMAS Applications Update
Health Care Made Simple
Caught in The Competitive Crossfire
AAHC Releases Health Workforce Report
New York Hospitals Create Outcry in Foreign Deal
Improve BCPM and consider career alternatives

Useful Links
NPR series on health care -You must read their thoughtful articles!
MD-PhD Training and Career Guide
PTCAS: Physical Therapy Centralized Application Service Now Available Online
Improve BCPM GPA and Consider Career Alternatives

Alumni Update
Dr. Jason Chew, D.O. Entering Class of 2001, Philadelphia College of Osteopathic Medicine
Ashley Pistorio, Entering Class of 2006, Penn State College of Medicine (See also June 2006 Success Story)
Kelly Dorsey, Entering Class of 2007, Loyola University Medical School, South Africa Medical Trip

Success Story of the Month
Against All Odds: Tracy Reese, African-American Woman Entering Class of 2008, UCLA-Drew

Question of the Month
How Do I Report an Alcohol Violation When Applying to Medical School?

Our Services

Contact
---
September is when schools usually begin. If Class of 2009 applicants submitted their applications in a timely fashion earlier this summer, then they are in the middle of completing all their secondary essays and applications. This part of the application process is actually the most time consuming and most difficult for many applicants for whom writing is hard. Give it lots of time and do an excellent job.

Are you ready?
Track Record
Entering Class of 2008...96% acceptance
Entering Class of 2007...97% acceptance
If you are interested in personalized advising from "The Best in the Business," (quote by Dr. Patrick Linson, Harvard Medical School Alum who is the only Native American Radiation Oncologist on the planet!), call Lewis Associates today to schedule YOUR personal assessment. Dr. Lewis invests in you, so you may live up to your potential to be the best applicant you can be!
Dr. Lewis' note: Dr. Linson installed the newest, most advanced Radiation Surgery machine in the world in his Vista, California, medical office this year… a step up even from the ones at Stanford and Harvard! Congratulations Dr. Linson. Click here for news video.
Phone: 805-226-9669
Fax: 805-226-9227
Mailing Address: 1885 Laguna del Campo, Templeton, CA 93465

Lewis Associates absorbs Long Distance Charges
All phone conferences are made from our office to you. Marcia, our Administrative Assistant, calls YOU at your appointment time.
Changes in Services
After September 1, 2009, new Year-Long Packages will not be available. If you are considering long-term advising, this is the year to lock in your Advising Agreement with us.
After September 1, 2009, Applicants will still be able to select from our highly effective Assessment, Essay, Hourly, and Interview Packages.
Current Advisees will continue working with Dr. Lewis until Matriculation.
Where are you in your journey to a health profession?
In high school? Yes, we advise high school students, particularly, those interested in BA-MD programs!

Just starting college? This is a scary time. Everything is new…how do I meet all those new expectations?

Moving into your difficult upper division sciences as a junior? Possibly, the "dreaded organic chemistry"…

Re-entering as an "older" non-traditional student? Re-establishing academic discipline…

We help prepare those of you submitting applications for medical and dental Residency programs, too!

Whatever niche you fit, we advise students just like you.

Are you REALLY ready to apply for the Class of 2009 or 2010?
How do you know?
Use our Personal Assessment--and you will be given your individual strategy and path to your future! Then, if you use our advising, we help implement your strategy! ! If it were easy to do, all applicants would be accepted...and, that is not the case.

Many whom we advise may not yet be ready, and need to develop some aspect of their background to become competitive. Best to apply when you are ready, be competitive, and do it ONLY ONCE!

Let's work together to make that one-time application successful…contacting us earlier is better so we can develop your strategy and address all those difficult problems…months or years prior to application. Why not set yourself up for success, rather than toy with the proposition of failure?

Testimonials
Margaret Jolley, Entering Class of 2008, Accepted to UC San Diego School of Medicine, her first choice school
"I never would've made it without my weekly conference with the calm, experienced Dr. Lewis. She kept me sane. I am so grateful for her guidance, for her editing help, and for the confidence she instilled in me. She is a genuinely caring committed Mentor who takes pride in helping our dreams happen. I have urged every fellow student I know to call her. Let her help you, too!"
LaDawn Hackett, last month's Success Story and Entering Class of 2008: "Thank you for helping my dream of attending MCG become a reality. Words cannot express my gratitude!"
Ariel Chairez, Entering Class 2004, Scholarship Awardee, University of Wisconsin Medical School
Dr. Lewis, I would like to thank you for all of your help. Without your guidance, I would not have been accepted into medical school this year. I am extremely happy to have been accepted to one of the top medical schools in the country, and to have received a scholarship of $130,000. For any student who questions the value of your services, I can say that you have saved me $130,000 in tuition! Thank you.
John Fiszer, Entering Class of 2005, University Of Illinois at Chicago College of Medicine
Dr. Lewis' note: John was an Assistant State's Prosecuting Attorney in Chicago, Illinois, when he contacted me in 2004.Finishing his 4th year of medical school, he said: "I am really enjoying med school, and I am thankful to Dr. Lewis for her help. Her methodical, disciplined approach to the med school application process, as well as her insight into the transition to med school were right on target."
Ali Warrick, Entering Class 2010 Advisee
"Dear Dr. Lewis,
I would like to tell you how much I appreciate your help in my transfer process to UC Berkeley. You have been an integral part of the transition, and I would like to thank you for your time and efforts. I know that your work is very thorough and well thought out. In addition, I believe that you really care about your students and believe in each student's "right fit" in a school. You lead many people toward a brighter future, and I would like to say Thank You! for your contribution toward my academic goals. This process has been much more enjoyable with your assistance and guidance. Thank you for being so good at what you do."
S, Entering Class 2008, accepted with full scholarship to Mayo Medical School
"I cannot thank Dr. Lewis enough for her support and invaluable advice. When I came to her more than a year ago, I was apprehensive about the formidable task of applying to medical school especially with my past academic and personal hardships. She helped me see that overcoming these difficulties was a testament to my strength, dedication, and diligence. One of the most surprising outcomes of our relationship was that she was effective in helping me develop a more positive self-image and conquer many of my insecurities. Without her guidance and letter of evaluation, I would not have been able to earn an acceptance to Mayo Medical School, which granted me a merit scholarship that covers almost all of my tuition. I truly appreciate all of her help. She went above and beyond her role as an Advisor by becoming a Mentor to me. She is absolutely the best in the business!"

Be Competitive
In order to be a competitive Class of 2009 or 2010 applicant, you need to submit a quality application as evaluated by your clinical, service and other experiences and your GPA/MCAT/DAT/GRE, etc. profile--in a timely fashion. This requires a well thought-out strategy to carry you through the difficult year-long application process. If you use Dr. Lewis' advising, we begin preparation early in the year BEFORE submission of your application!

EARLY is always better, removes much of the pressure, and allows time to solve unforeseen problems and challenges.

What are your chances?
If you want to change your career, or reach your present career goal, but do not know how to begin, or how to jump over all those hurdles, Lewis Associates will advise you and implement strategies to change your life.

Getting Started
Read about getting your Personal Assessment on our website, then phone or email us to get started! Dr. Lewis spends, on average, 7 hours developing an effective strategy of taking you from where you are to where you want to be.

You may be like our other Lewis Associates Advisees -- highly motivated and intelligent -- but needing focus, guidance and specific technical expertise. Dr. Lewis solves problems for her Advisees and finds opportunities for them. Or, you may wish to use hourly advising to solve one specific problem.

Dr. Lewis is a trained Biologist, having taught and directed her own research programs for many years at two universities. She earned two postdoctoral fellowships (one at NIH), received the 1990 NACADA Outstanding Institutional Advising Program in the U.S. and directed her own Health Careers Opportunity Program grant for 6 years, bringing $1 million to her university.

If you are serious about making your dreams to become a physician, dentist, physician assistant, veterinarian, optometrist, podiatrist, naturopathic physician, or pharmacist a reality--Dr. Lewis can help you. We have made the difference for more than 800 alumni now practicing in medicine the last 23 years.

Dr. Lewis teaches Professionalism, Leadership, and Quality, and sets high standards for her Advisees.

Lewis Associates will save you money and heartache on your preparation and application process.

Contact the Health Career experts! For more information email imaclewis@lewisassoc.com. Call 805-226-9669 to set up your first appointment.
---
news
Two New Osteopathic Medical Schools Open Their Doors in 2008
http://www.aacom.org/resources/ome/2008-0708/Pages/NewSchools.aspx
2009 AACOMAS Applications Update (8-1-08)
More than 4,470 potential students have submitted applications through the AACOMAS system for medical school classes starting in Fall 2009.
http://www.aacom.org/resources/ome/2008-0708/Pages/2009Applications.aspx
Health Care Made Simple (article in Newsweek, June 9, 2008)
http://www.newsweek.com/id/139453
Caught in The Competitive Crossfire
http://content.healthaffairs.org/cgi/content/full/hlthaff.27.5.w374/DC1
AAHC Releases Health Workforce Report
A new report describes the nation's health workforce challenges, analyzes historical and current factors driving these challenges, and proposes solutions and recommendations, including the establishment of a national health policy planning body.
http://www.aacom.org/resources/ome/2008-0708/Pages/aahc.aspx
New York Hospitals Create Outcry in Foreign Deal
A deal with a Caribbean school to provide clinical training for students at the city's public hospitals has stoked fears that clerkships will grow more scarce.
http://www.nytimes.com/2008/08/05/nyregion/05grenada.html
GREAT FOR INTERVIEW PREPARATION:
NPR series on health care in other countries is a quick way to see the international health care scene and compare American Medicine. Europe spends far less on health care than the United States, while managing to cover all citizens and rank above the U.S. on most measures of good health.
http://www.npr.org/templates/story/story.php?storyId=91972152
MD-PhD Training and Career Guide
New resource: "MD-PhD Training and Careers" PDF available on the AAMC GREAT Group Home page for prospective MD-PhD applicants & current trainees. http://www.aamc.org/members/great/start.htm
right column home page under RESOURCES: MD-PhD Training and Career Guide
PTCAS: Physical Therapy Centralized Application Service Now Available Online
The American Physical Therapy Association (APTA) is pleased to announce that the 2008-09 Physical Therapist Centralized Application Service (PTCAS) application is now available online! To view the application, visit the official PTCAS Web site at www.ptcas.org and click on the "Login to the 2008-09 PTCAS Application" link on the home page. Applicants can e-submit their application as soon as it is complete. There are now 70 participating programs. To view a list of programs, visit the PTCAS Directory at http://www.ptcas.org/Directory.html. The Directory features the admission prerequisites for each participating institution in a standardized format and in a set of comparison tables. The PTCAS fee waiver request form is available in the Fees section at http://www.ptcas.org/Fees.html.
Students who need to improve BCPM GPA and consider career alternatives
George Washington University School of Public Health & Health Services and the School of Medicine & Health Sciences has a solution:
http://www.gwumc.edu/sphhs/
The new Graduate Certificate in Public Health Microbiology and Emerging Infectious Diseases is offered by both GW Schools. This 24 credit graduate certificate may be completed in 1 year, and students may transfer credits to the MS degree by the same name, if they wish to complete that degree. In many ways, this Graduate Certificate is the "best of both worlds". It provides its students with knowledge of public health and medically-relevant biological sciences
Find these and other useful links on Lewisassoc.com's Links Page.
---
alumni updates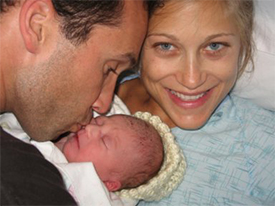 Kaia Ginger
Dr. Jason Chew, D. O. Entering Class of 2001, Philadelphia College of Osteopathic Medicine
Photo of new Baby: Kaia Ginger born 8/8/08 8:32am
5lbs 6ozs Happy healthy baby girl!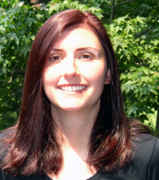 Ashley Pistorio
Ashley L. Pistorio, MSY3, Entering Class of 2006, Penn State College of Medicine, Medical Education Officer, Plastic Surgery Interest Group
(See Also June 2006 Success Story)
NOTE FROM ASHLEY TO DR. LEWIS 8/21/08:
"Started 3rd year clerkships with Pediatrics and just finished that up with the shelf exam on Friday. This week I began Ob/Gyn and am still trying to orient myself to it. I find that each service is significantly different in how they do day-to-day things, which could be universal if they all figured it out together, and each location (outpatient vs inpatient vs labor and delivery vs repro endocrinology, etc) is also a bit different. I saw that with Peds, too...
So far so good, I think, but ask me as I start to get exam grades back. As far as I know, my clinical comments (from attendings, residents, and AIs) were at a high pass or honors level for Peds. The shelf could potentially pull me down, but I'm not sure how it went! It was tougher than I expected (hit completely different subject areas), and I had done over 1000 Qs to prep for it. We shall see, though, as everyone I talked to feels the same way!
I've passed Step 1... and am already planning on taking Step 2 early next year (July, or by Aug 1st anyway). I'm studying all year and have already bought a question bank, plus have pre-test books for the shelf exams (which are essentially Step 2 broken into subject areas). I plan on giving myself a fighting chance, or as much of one as I can muster.
So, I started doing research in the Plastic Surgery lab in October of my 1st year and got a grant to continue it last summer through this summer... it will probably end in a publication and I'm thinking about what sort of extension of it I can do to take the next step... something more translational I hope.
I mentioned I've been teaching (not anymore, though-- clerkships are not conducive to any outside activities!!) at a local college-- Anatomy and Physiology I and II, mostly to nursing or other allied health students, but some bio and general studies majors. I loved it! Nothing like watching the light bulb go on, or watching someone discover that they really enjoy something, or working through helping people with learning disabilities (including undiagnosed ones) :o)"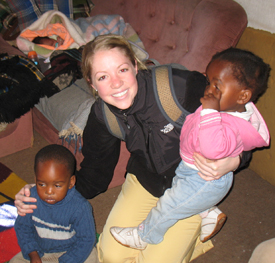 Kelly Dorsey
Kelly Dorsey, MSY2 (Class of 2007), Loyola University
TRIP TO SOUTH AFRICA
"I was in the township of Witbank...outside of Johannesburg in South Africa for 2 weeks. Our trip was geared toward public health,as opposed to running medical clinics. We spent our time working with 2 social worker type groups: Asiphilenkale and Isibinde. These were both groups of women who volunteer to visit patients and children in their homes to make sure meds are being taken, food and blankets are available, etc. Also visited an orphanage, as well as an AIDS hospice. Wonderful experience!"

Watch for Success Stories coming for some of these alumni!
---
success story
Against All Odds: Tracy Reese, African American Entering Class of 2008, UCLA-Drew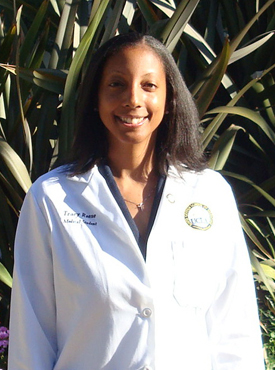 Tracy Reese
I was born in San Francisco, where I spent my early childhood. At age 6, my family moved across The Bay to East Oakland. I was the oldest of four children and I took responsibility for my younger siblings at a very early age. I helped my mother by babysitting, doing laundry, cleaning the house, and cooking meals on a regular basis, while she worked diligently to provide for her children.
I must admit that I was a very brave child. While caring for my siblings, I took charge by calling 911 when medical emergencies occurred and I often took my siblings to get medical care while my mother worked. My experiences with healthcare providers were always positive; they always made me feel safe and valued.
I feel very fortunate that I was raised in one of the most diverse and beautiful areas in the country. I still remember the colors and sounds of the Dragon Dance at the Chinese New Year Festival that took place at Sanchez Elementary School in San Francisco when I was in kindergarten. I had friends from many cultures and ethnicities, and I find that these early cross-cultural experiences continue to serve me well as I grow and develop professionally.
I was raised in a socially, economically, and educationally-disadvantaged household and community. I recall living in the "projects", another name for public housing, and occasionally being without food and electricity. My childhood was very challenging by all accounts, and by age 5, I decided that I was going to college to escape poverty. Doing well in school became my primary focus and upon graduating from high school, I achieved my goal. I was accepted to UC Berkeley, UC Davis, and UCLA. I chose to attend UC Davis.
Leaving Oakland and thriving in the very rigorous academic environment at UC Davis was extremely challenging for me. I was the first in my immediate family to attend college and I did not have all of the support that I needed to perform to my fullest potential. Some people discouraged me, telling me that I was not going to be successful or amount to anything in life. This fueled my lack of confidence and lowered my self-esteem. I struggled academically at UC Davis and made slow academic progress. However, despite all of the obstacles, including not receiving any financial aid and having to work 35-40 hours per week during my last 3 years, I persevered and graduated with a B.S. degree in Genetics with a minor in Psychology.
Immediately upon graduation, I secured an internship at the Parke-Davis Laboratory for Molecular Genetics in Alameda, CA, where I learned basic techniques in Molecular Biology. Under the direction of my mentor, Dr. David Ross, I participated in many activities, including the Journal Club. Through this experience, I became more knowledgeable about the application of genetic principles and became more confident in my academic ability.
I also signed up for a modeling class in an effort to build my confidence and prepare for success in the professional world. I participated in a variety of shows that were fundraisers for community service organizations, such as Oakland Children's Hospital and the Sickle Cell Anemia Foundation. Modeling was a very rewarding experience for me because I was part of a team working toward common goals: self improvement and community service.
I subsequently held a variety of positions in the Biotechnology Industry, and worked as a Teacher in Oakland and a Real Estate Agent. I often held two or three jobs at a time because I was paying off debts incurred while earning my degree at UC Davis, while simultaneously exploring career options. During this time, I also volunteered on Saturday nights at the ER at Highland Hospital, a Level One Trauma Center in Oakland. This was a pivotal experience because I discovered my passion for serving uninsured and disenfranchised patients. I enjoyed working as a valuable member of a diverse, yet cohesive team. I learned that treating patients with dignity and respect is a gift. This experience was so rewarding that I decided that becoming a physician was the best career choice for me.
I thought that my chances of gaining admission to medical school were nearly impossible. My academic record from UC Davis was not stellar. Looking at my transcript was very painful. However, nearly three years after graduation, I brought my official transcript to Ed Dagang, the Director of Admissions and Outreach at UC Davis SOM. He reviewed my record and told me that I had a chance. We immediately mapped out my plan of action.
I set my plan in motion when I enrolled at CSU East Bay. While working up to 60 hours per week as a QA Analyst at a major pharmaceutical company, I attended college to improve my academic record. I took my job as a QA Analyst very seriously, and in the process, I enhanced my communication and leadership skills. My hard work was recognized when I was awarded the Standards of Leadership Gold Award for Interdependent Partnering.
I stayed motivated and networked with other students by attending pre-med conferences and seminars. I met Dr. Cynthia Lewis at a SUMMA conference at Stanford University, one of the largest pre-med conferences on the West Coast. I knew in my heart that I wanted to pursue a career in medicine, but I also knew that I needed specialized help to reach my goal.
Our initial meeting included a detailed review of my entire life, in addition to my academic record. Dr. Lewis believed that I had a chance and we began the daunting task of helping me to become a more competitive applicant. Our next step was to contact professors and begin collecting letters of recommendation. Dr. Lewis also recommended that I apply to MEDPREP, a rigorous post-baccalaureate program at SIU Carbondale.
Dr. Lewis strongly encouraged me through the challenging process of working up to 60 hours per week while improving my academic record through earning a second B.S. degree in Biochemistry at CSU East Bay. Immediately after earning my second degree, I relocated to Carbondale, IL to attend MEDPREP.
At MEDPREP, I engaged in a rigorous curriculum and honed my test-taking, time-management, and study skills. I also gained additional clinical experience through volunteering at Abundant Health Resource Clinic, a free clinic for uninsured clients, and through shadowing an Obstetrician/Gynecologist, Dr. Walker, and an Urologist, Dr. Stokes. These experiences reinforced my commitment to become a physician who serves my community.
While at MEDPREP, I continued to work with Dr. Lewis. She was a constant source of inspiration and personalized attention. Even when I encountered what seemed to be road blocks, she always supported me and I am truly grateful. Dr. Lewis connected me with Dr. Jim Yeh, a distinguished hospitalist and internist, during the summer that I took the MCAT, in an effort to help me gain additional clinical experience. She also helped me network with several of her alumni.
Dr. Lewis coached me throughout my MCAT preparation, helping me to overcome test anxiety and provided me with an excellent strategy for success. I worked especially hard to prepare for the MCAT because I wanted to return home to California for medical school, and I knew that a good score would improve my chances of not only getting into medical school, but could afford me the opportunity to come home. I was extremely fortunate to earn an excellent MCAT score. That score was the key that opened the door to my future.
Dr. Lewis assisted me throughout the entire the application process and prepared me for every single interview. I never thought that I would be invited to 15 interviews and offered 9 acceptances. I had the desire and determination to enter medical school and Dr. Lewis provided me with a roadmap, unwavering encouragement, and support which helped me realize my dream! On June 11th, I got the call from my first choice medical school: UCLA-Drew. I love everything about the curriculum and the support that I have in this unique medical education program. The mission of the school is my professional mission: to help the underserved. I was also awarded a sizeable scholarship by UCLA.
Once again, I must thank Dr. Lewis because she encouraged me to write my Letter of Intent to Matriculate to the Admissions Committee. At the Charles Drew University White Coat Ceremony, Dr. Reid, my interviewer, told me "It's a good thing that you called…What's more important is that you were in touch with someone who knew to tell you to call." I will never forget Dr. Lewis and the magnitude of everything she did for me. I would not be here without her help.
I tell my family, friends, and other aspiring doctors that Dr. Lewis is absolutely the best pre-professional health Advisor in the world! I highly recommend her to anyone who is serious about achieving their dream of becoming a doctor. I truly appreciate all of her constructive advice and her consistent commitment to providing personalized attention to every detail of my application process. She helped me develop the skills and attributes necessary to become successful in achieving my dream. Thank you, Dr. Lewis!!!
Email to Dr. Lewis if you wish to communicate about medical schools or other issues or to contact those profiled in Success Stories: imaclewis@lewisassoc.com
---
question of the month
By Dr. Cynthia Lewis, PhD

How Do I Report an Alcohol Violation While Applying to Medical School?
Question: "I started my application! I have a question though... They ask a question about if you have had any institutional action. I did last year. I was written up by student life for an alcohol violation...but it's not on my transcript because it was a one-time offense. I mean it sounds like I need to say I did have one. Will this hurt me? And, will they find out? How sneaky are these people?"
Response on a Listserv: "I am a faculty and admissions committee member at a mid-western School of Medicine. At our school, the admissions process enjoys significant autonomy and is expected to make insightful and impartial decisions concerning who is admitted. The dean receives reports from the admissions committee, but does not participate materially in the process beyond providing executive oversight. I would be surprised if the "Northeast Deans" or any other medical school deans spend much time attempting to micromanage the admissions process at their respective schools. A well-designed admissions process should provide a Dean with a means to prevent, deflect, or at least mitigate undue political, financial, or alumni interference in the integrity of the admissions decisions. Obviously, if asked, any medical school Dean is going to signal that he/she would view admission of applicants at risk for alcoholism unfavorably.
An 18-year-old freshman caught in the act of drinking a beer in the dorm, who is subsequently dealt with through a compassionate, progressive internal university process, and learns his/her lesson, does not bother me terribly, especially if he/she shows contrition, and is able to articulate what was learned through that process. A 21-year-old rising senior who is wrestling with the ethical question of whether to fully disclose an infraction, however minor, and who views admissions personnel as "sneaky" bothers me a great deal.
Throughout a physician's career, there are numerous requirements to fully disclose, including when seeking a state license to practice, DEA credentials, privileges on a hospital staff, or participation on an insurance panel. Anyone choosing to enter a licensed profession needs to become comfortable with full disclosure and telling the complete truth at every opportunity."
Another Response: "As one of those "Northeast" schools, we take very seriously ethics, professionalism, maturity and personal responsibility as desirable qualities in our applicants. We all probably did something stupid when we were growing up -- if that experience taught us something positive that helped us become more mature and responsible, then all is well."
We will feature an important question each month. Please submit one that interests you for Dr. Lewis to answer. Send your questions to imaclewis@lewisassoc.com with 'Newsletter Question' in the subject line.
---


The Association of International Graduate Admissions Consultants' (AIGAC) Stamp of Excellence is issued based on education, professional experience as a graduate admissions consultant, and commitment to the AIGAC's principles of good practices. AIGAC exists to define and promote professional excellence in serving graduate and professional school applicants worldwide.
---
lewis associates advising services
Lewis Associates specializes in personal, effective and professional premedical advising and placement for traditional and non-traditional applicants. Often, non-traditional students are older than 21 years of age, career changers, international applicants or second-round applicants for admission to health professions school.

Lewis Associates' services meet the needs of all types of students from pre-applicants to applicants, including hourly advising support for specific needs. Click here.
---
contact
"It's never too late to be who you might have been."

If this is how YOU feel, then, maybe Lewis Associates is the place for you. Lewis Associates provides Mentoring and Coaching through the rigorous and often circuitous pre-health preparation and application process. Other consultants may support programs like Law and Business or graduate school -- not Lewis Associates. We are the experts in Health Professions based on 23 years of a successful track record.
Call or email today to set your first appointment!
805.226.9669 imaclewis@lewisassoc.com
---
Copyright 2009, Lewis Associates. All rights reserved. Please do not repost on any website without direct permission from Lewis Associates.
Please feel free to forward this newsletter to any friends, classmates, or colleagues you feel would find its contents beneficial.