Lewis Associates e-Newsletter
Volume 7 Issue 6
June 2008
Published by Lewis Associates. Dr. Cynthia Lewis, PhD., Editor
Email imaclewis@lewisassoc.com with your comments. Enjoy!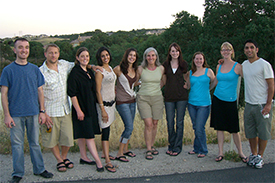 San Diego State University Collegiate Union for Health Related Education, Classes 2008 and 2009-Celebration!
Some of the Classes of 2008 and 2009 gathered recently at Dr. Lewis' home for a gala dinner celebration of the 100% success of all its Class 2008 applicants! We look forward to the same success for the Class 2009!
What's inside:
Welcome to Success Stories Newsletter!
Current Students' Progress
How to Communicate With Us
Changes in Services
Your journey to a health profession
Are You Ready for the Class of 2009?
Testimonials
Track Record
Be Competitive
Getting Started

Featured News:
Application services submission dates!

News:
Critiquing the MCAT
Presidential candidates answer questions on health care reform
Can Walmart Fix Healthcare?

Useful Links
Class 2009 Osteopathic College Information Book
Exam Krackers

Alumni Update
Dr. Adam Carewe (and wife Beth), graduated from New York Medical College, 2008
Dr. Robert Carpenter, D.O., Class 1996
Olga Rosito, MA Psychology, Pacific College of Psychology, 2004
Janelle Pieros, MSY 2, A. T. Still University, Mesa AZ

Success Story of the Month
Steven Ritter, D. O., Prison Medicine

Question of the Month
How do I categorize my engineering classes on the AACOMAS and the AMCAS…and does it make a difference?

Our Services

Contact
---
June is when applicants can begin to submit online in most of the centralized application services! And, off we go, to the start of another -- the Class of 2009 -- application year!!
Are you ready?
Current Students' Progress
96% of Lewis Associates 2008 Applicants were accepted into medical, dental, veterinary pharmacy and naturopathic medical schools; several into their top choices! Congratulations!
If you are interested in personalized advising from "The Best in the Business," (quote by Dr. Patrick Linson, Harvard Medical School Alum who is the only Native American Radiation Oncologist on the planet!), call Lewis Associates today to schedule YOUR personal assessment. Dr. Lewis invests in you, so you may live up to your potential to be the best applicant you can be!
Dr. Lewis' note: Dr. Linson installed the newest, most advanced Radiation Surgery machine in the world in his Vista, California, medical office this year… a step up from the ones at Stanford and Harvard! Congratulations Dr. Linson. Click here for news video.
Phone: 805-226-9669
Fax: 805-226-9227
Mailing Address: 1885 Laguna del Campo, Templeton, CA 93465

Lewis Associates absorbs Long Distance Charges
All phone conferences are made from our office to you. Marcia, our Administrative Assistant, calls YOU at your appointment time.
Changes in Services
After September 1, 2009, new Year-Long Packages will be not be available. If you are considering long-term advising, this is the year to lock in your Advising Agreement with us.
After September 1, 2009, Applicants will still be able to select from our highly effective Assessment, Essay, Hourly, and Interview Packages.
Current Advisees will continue working with Dr. Lewis until Matriculation.
Where are you in your journey to a health profession?
In high school? (yes, we advise high school students, particularly, those interested in BA-MD programs)

Just starting college? This is a scary time. Everything is new…how do I meet all those new expectations?

Moving into your difficult upper division sciences as a junior? Possibly, the "dreaded organic chemistry"…

Re-entering as an "older" non-traditional student? Re-establishing academic discipline…

We help prepare those of you submitting applications for medical and dental Residency programs, too!

Whatever niche you fit, we advise students just like you.

Are you REALLY ready to apply for the Class of 2009?
How do you know?
Use our Personal Assessment--and you will be given your personal strategy and path to your future!
Then, if you use our advising, we actually help you implement your strategy!

Many whom we advise may not yet be ready, and need to develop some aspect of their background to become competitive. Best to apply when you are ready, be competitive, and do it ONLY ONCE!

Let's work together to make that one-time application successful…earlier is better so we can develop your strategy and address all those difficult problems…months or years prior to application. Why not set yourself up for success, rather than toy with the proposition of failure?

Testimonials
Margaret Jolley, Accepted to UC San Diego School of Medicine Class of 2008
"I never would've made it without my weekly conference with the calm, experienced Dr. Lewis. She kept me sane. I am so grateful for her guidance, for her editing help, and for the confidence she instilled in me. She is a genuinely caring committed Mentor who takes pride in helping our dreams happen. I have urged every fellow student I know to call her. Let her help you, too!"
Ariel Chairez, Scholarship Awardee, University of Wisconsin Medical School Class 2004
Dr. Lewis, I would like to thank you for all of your help. Without your guidance, I would not have been accepted into medical school this year. I am extremely happy to have been accepted to one of the top medical schools in the country, and to have received a scholarship of $130,000. For any student who questions the value of your services, I can say that you have saved me $130,000 in tuition!
Thank you.
John Fiszer, University Of Illinois at Chicago College of Medicine Class of 2005
Dr. Lewis' note: John was an Assistant State's Prosecuting Attorney in Chicago, Illinois, when he contacted me in 2004.Finishing his 4th year of medical school, he says: "I am really enjoying med school, and I am thankful to Dr. Lewis for her help. Her methodical, disciplined approach to the med school application process, as well as her insight into the transition to med school were right on target."
Thanks from Lily Marouf, Sackler University Medical school (Tel Aviv) Class of 2007
"Dear Dr. Lewis, Thank you for all of your help the past year. It was one of the most challenging years of my life, and I could not have been successful without you. I appreciate all of your support and patience, and look forward to sharing many memories with you when I come back to the States."

Track Record
CLASS OF 2008...96% acceptance
CLASS OF 2007...97% acceptance

Be Competitive
In order to be a competitive Class of 2009 or 2010 applicant, you need to submit a quality application as evaluated by your clinical, service and other experiences and your GPA/MCAT/DAT/GRE, etc. profile--in a timely fashion. This requires a well thought-out strategy to carry you through the difficult year-long application process. If you use Dr. Lewis' advising, we begin preparation early in the year BEFORE submission of your application!

EARLY is always better, removes much pressure, and allows time to solve unforeseen problems and challenges.

What are your chances?
If you want to change your career, or reach your present career goal, but do not know how to begin, or how to jump over all those hurdles, Lewis Associates will advise you and implement strategies to change your life.

Getting Started
Read about your Personal Assessment on our website, then phone or email us to get started! Dr. Lewis spends, on average, 7 hours developing an effective strategy of taking you from where you are to where you want to be.

You may be like our other Lewis Associates Advisees--highly motivated and intelligent, but needing focus, guidance and specific technical expertise. Dr. Lewis solves problems for her Advisees and finds opportunities for them. Or, you may wish to use hourly advising to solve one specific problem.

Dr. Lewis is a trained Biologist, having taught and directed her own research programs for many years at two universities. She earned two postdoctoral fellowships (one at NIH), received the 1990 NACADA Outstanding Institutional Advising Program in the U.S. and directed her own Health Careers Opportunity Program grant for 6 years, bringing $1 million to her university.

If you are serious about making your dreams to become a physician, dentist, physician assistant, veterinarian, optometrist, podiatrist, naturopathic physician, or pharmacist a reality--Dr. Lewis can help you. We have made the difference for almost 800 alumni now practicing in medicine the last 23 years.

Dr. Lewis teaches Professionalism, Leadership, and Quality, and sets high standards for her Advisees.

Lewis Associates will save you money and heartache on your preparation and application process.

Contact the Health Career experts! For more information email imaclewis@lewisassoc.com. Call 805-226-9669 to set up your first appointment.
---
news
Featured News
Dates services can submit:
News
Critiquing the MCAT!
http://www.fairtest.org/healthy-medical-school-admissions
MCAT Test Prep--Exam Krackers
Faith Quenzer, former Director of a local EK office:
"EK has courses all over the country and are particularly popular on the east coast. EK has an effective approach in teaching the MCAT, focusing the material to what is most likely to be covered on the MCAT. The books are not intimidating, and give students opportunities to practice MCAT questions. There is rigorous teacher training, and only the "best" teachers are chosen."
Presidential candidates answer questions on health care reform
A key objective of the AMA's "Voice for the Uninsured" campaign has been to bring national attention to the issue of the uninsured. Each of the 3 leading 2008 presidential candidates have made health care a top priority in their respective campaigns.
In response to a set of 10 questions posed to the candidates about their heath care reform proposals, the AMA received responses from the campaigns of Sens. Hillary Clinton, D-N.Y., John McCain, R-Ariz., and Barack Obama, D-Ill. Review these questions and answers as they evaluate the proposals and platforms of presidential candidates.
Learn more (PDF, KB) about each candidate's proposal on health care reform.

Teen blood donors have higher risk of donation-related complications
http://jama.ama-assn.org/cgi/content/full/299/19/2279 Sixteen- and 17-year olds who donate blood are significantly more likely to experience donation-related complications such as fainting and bruising than older blood donors, according to a study in the May 21 issue of the Journal of the American Medical Association (JAMA).
Medical Education Online: Resident physician attitudes about obesity treatment
A recent study (PDF, 668KB) of 101 internal medicine resident physicians at Temple University in Philadelphia and Montefiore Medical Center in New York found that residents recognize obesity is a serious medical condition, but they do not feel competent in treating obesity, and have unrealistic weight-loss goals. Third-year residents had more negative attitudes about obese patients compared to residents in their first and second years of training. The study identified areas that could be addressed in resident education about obesity management. Further study was suggested to determine what factors contribute to the negative attitudes.

Let Wal-Mart fix US health care
The discount retailer already has made major inroads into accessible, affordable care through lower drug prices, walk-in clinics and electronic record-keeping. Why stop there? Read Full Article

links

Class 2009 Osteopathic College Information Book is posted to the AACOM www site at
http://publish.aacom.org/resources/bookstore/cib/Pages/default.aspx.
Find these and other useful links on Lewisassoc.com's Links Page.
---
alumni updates
Please note that many of Dr. Lewis' alumni have been tracked down recently and we mention a few here.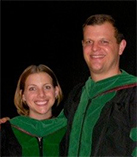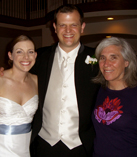 Drs. Adam and Beth Carewe
Drs. Adam and Beth Carewe, graduating from New York Medical College at Carnegie Hall, Class of 2004
Recent graduation and marriage
Drs. Adam and Beth Carewe, graduating from New York Medical College at Carnegie Hall
Drs. Adam and Beth Carewe wedding reception with Dr. Lewis near Denver Colorado. What a beautiful wedding and reception in the mountains near Denver! Dr. Lewis got to meet family and friends, and had an absolutely wonderful time!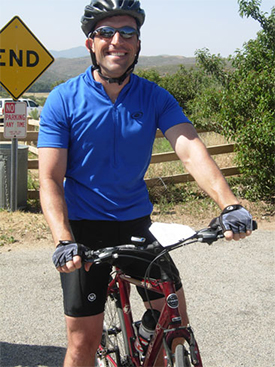 Cycling for AIDS
Dr. Robert Carpenter, D.O.
A.T. Still University at Kirksville, MO, Class of 1996
5/10-08
To Dr. Lewis: "I am still working at the Naval Hospital. Just started my infectious diseases fellowship. Hours have been demanding...anywhere from 8-17 hours in the hospital. The AIDS Lifecycle is an annual event that is held to raise money for people living with HIV/AIDS. Money raised goes to the LA Gay & Lesbian Center and The San Francisco Center and is distributed through their programs that directly benefit people living with HIV/AIDS. This is the 7th annual event, and last year they raised over $11 million. Each rider is required to raise at least $2500 before he/she can ride. It is a 545 mile route from San Francisco to Los Angeles over 7 days...so we ride about 80 miles per day. Each night, we set-up camp in 2 man tents. The ride organizers have arranged for hot dinners and hot showers in large tractor-trailer shower units. Each day, there is also a rest stop approx every 25 miles along the route where they will have snacks, drinks, medical support, mechanical support. There will be 2500 riders and 500-600 "roadies" - the folks who make it all happen (rest stops, campsites, ensure the route is safe, etc). I am doing the ride as someone living with HIV to battle the stigma of HIV, showing that even 545 miles on a bicycle is not too much for someone living with HIV to do! Also, I'm doing it to raise money and awareness for the disease. There will be just over 200 people living with HIV participating in the event this year."
In a general email: "Thank you to all of those who have sponsored me! Your donation will go to a wonderful cause! For those who have not yet pledged, PLEASE consider sponsorship; any amount is needed and appreciated! You can sponsor here: http://www.aidslifecycle.org/5392"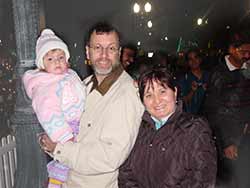 Dr. Olga Rosito
Olga Rosito, MA
Pacific College of Psychology, Class 2006 Clinical Psychology at the VA
5/10/08
"I am just finishing my 3rd clinical year and guess where I will be next year (another clinical year before internship) - spinal cord injury unit at PAVA!! I can't tell you how meaningful it is for me to end up there just as I am finishing my preprof training. I started there in the first year as an undergrad, and now I will be back there, this time doing actual clinical work through the outpatient clinic. Most of the same folks are still there, so I am truly looking forward to this opportunity. I start on Aug 1.
Schoolwork is now complete; next year I will be working on my dissertation and another research project in addition to clinical practicum. Local internships are extremely competitive (usually around 300 applications for 1 or 2 slots). Michael and I are keeping very busy. Sophia just turned 3, she is talking, and is a very sweet and kind girl. She is attending a Russian daycare so her Russian is quite good, but she knows to speak to me in Russian and then translate for her father in English.
Take care, Olga Rosito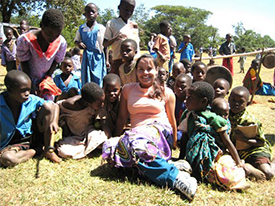 Janelle Pieros
Janelle Pieros
MSY 2, A. T. Still University, Mesa AZ (see Success Story 9/07)
Malawi Mission Trip
May 11, 2008
"I love talking about my African experience, so if you have questions or want more information on the organizations we partnered with in Malawi such as Somebody Cares, Likuni Hospital, or Ministry of Hope's Crisis Nursery don't hesitate to call or email. Thanks again for all who supported my trip. " Janelle Pieros

Watch for Success Stories coming for some of these alumni!
---
success story
Steve Ritter, D. O. Western University Class of 1994.
Southern Region Medical Director, California Department of Corrections and Rehabilitation (CDCR) -- Prison Medicine
I completed my medical training at Western University of Health Sciences, then Family Residency program at Downey Regional Medical Center, in Downey, CA. I then took a position working for a physician who was interested in expanding his business into Northern County, San Diego. I started working there, and quickly realized that we had very different ideas about patients. He was concerned about the business, and me, the patient.
While in Residency, one of my patients happened to be a nurse working at the California Institute for Men, in Chino. She suggested that I apply to the Department of Corrections for a P&S position. I did, with no intent of working there.
As soon as I put in my notice (per contract, I needed to give a 3 month notice), I received a letter to interview at RJ Donovan, a prison, in San Diego. So I interviewed, was offered the position, and thought that this would allow me some time to find a "real"job.
Six years later, and now the Southern Region Medical Director, I am assisting with the revamping and development of a new heath care delivery system for the California Department of Corrections and Rehabilitation (CDCR). About 8 years ago, there was a class action lawsuit filed against the State of California; the plaintiffs were the inmates. They argued and won that they were being denied access to care. The State was given 8 years to correct the problems, and they failed. So, a Receiver was established, and health care was removed from the CDCR.
Since then, we have been developing and implementing a new health care delivery system, and using the basic concepts derived from the Institute of Medicine (IOM).
In addition to this job, I have entered a Master's program: Leadership in Healthcare Organizations, at UCSD.
If you would have asked me 6 years ago where would I be today, it most certainly would not be what I am doing now.
Email to Dr. Lewis if you wish to communicate about medical schools or other issues or to contact those profiled in Success Stories: imaclewis@lewisassoc.com
---
question of the month
By Dr. Cynthia Lewis, PhD

How do I categorize my engineering or classes that may have science content on the AACOMAS and the AMCAS…and does it make a difference?
From Dr. Lewis:
All medical schools look at applicants by separating GPA into many categories. The most important are undergraduate, graduate and post-baccalaureate science GPAs. To determine whether or not a particular class is categorized as "science", then, IS important.
AACOMAS:
First, math is NOT, I repeat, NOT, calculated into the science GPA.
Next, "other science" IS calculated into the science GPA. So, any course that is primarily biology, chemistry, physics material AND engineering will be included in the science GPA. If an engineering class is ONLY math, it can be categorized as math
On the AACOMAS instructions, these courses are listed to be included as "Other Science":
Agricultural Science
Astronomy

Chiropractic

Electronics

Engineering

Epidemiology

Geology

Kinesiology

Medical Technology

Meteorology

Nutrition

Pharmacy

Physical Anthropology

Physical Geography

Physical Science

Physician Assistant

Radiology
AMCAS:
All courses that have more than half (arbitrary measure) of the curriculum in biology, chemistry, math or physics are used in calculating the science GPA. YOU decide!
We will feature an important question each month. Please submit one that interests you for Dr. Lewis to answer. Send your questions to imaclewis@lewisassoc.com with 'Newsletter Question' in the subject line.
---


The Association of International Graduate Admissions Consultants' (AIGAC) Stamp of Excellence is issued based on education, professional experience as a graduate admissions consultant, and commitment to the AIGAC's principles of good practices. AIGAC exists to define and promote professional excellence in serving graduate and professional school applicants worldwide.
---
lewis associates advising services
Lewis Associates specializes in personal, effective and professional premedical advising and placement for traditional and non-traditional applicants. Often, non-traditional students are older than 21 years of age, career changers, international applicants or second-round applicants for admission to health professions school.

Lewis Associates' services meet the needs of all types of students from pre-applicants to applicants, including hourly advising support for specific needs. Click here.
---
contact
"It's never too late to be who you might have been."

If this is how YOU feel, then, maybe Lewis Associates is the place for you. Lewis Associates provides Mentoring and Coaching through the rigorous and often circuitous pre-health preparation and application process. Other consultants may support programs like Law and Business or graduate school -- not Lewis Associates. We are the experts in Health Professions based on 23 years of a successful track record.
Call or email today to set your first appointment!
805.226.9669 imaclewis@lewisassoc.com
---
Copyright 2009, Lewis Associates. All rights reserved. Please do not repost on any website without direct permission from Lewis Associates.
Please feel free to forward this newsletter to any friends, classmates, or colleagues you feel would find its contents beneficial.