Lewis Associates e-Newsletter
Volume 7 Issue 2
February 2008
Published by Lewis Associates. Dr. Cynthia Lewis, PhD., Editor
Email imaclewis@lewisassoc.com with your comments. Enjoy!
What's inside:
Welcome to Success Stories Newsletter!
Lewis Associates Now Has The Association of International Graduate Admissions Consultants' Stamp of Excellence
How to Communicate With Us
Changes in Services
Are You Ready to Apply for the Class of 2009?
Track Record
Be Competitive

Featured News:
AAMC's Fee Assistance Program (FAP)
Stanford's SUMMA Pre-Med Conference
Come spend the evening with UC Davis Medical Students
The Age of Loan Drones
Premeds Work Together to throw off Image of Cutthroat Competition
Moving Toward the Day when Justice Just is
The Relationships Between Doctors, Drug Companies

Useful Links
NIH Diversity Recruitment and Retention
Daily Kos on Healthcare

Alumni Update
Radiation Oncologist, Dr. Patrick Linson, Class 1993 (Harvard)
Pharmacist, Dr. Lisette Oie-Kabul, Class 2003 (Oregon State)
Physician Assistant, Shannon Heaton-Murillo, Class 2002 (Yale)
Dentist, Dr. Norma Ramirez, Class 2000 (Case Western Reserve)
Dentist & mother of mother of 2, Dr. Kriston Gallipeau, Class 1994 (UCSF)
Dentist, & mother of triplets, Dr. Christie Martinez, Class 1995 (UCSF)
Dentist, Nat Kittisiarapong, Class 2006 (Nova Southeastern)
Plastic Surgeon, Dr. Sam, Class 1996 (UCSF)

Success Story of the Month
Rural Basketball Star in Medical School: Rob Keller Class 2007, MSY1, Michigan State University

Question of the Month
What can go Wrong with Secondaries?

Our Services



Contact
---
Welcome to Lewis Associates!

Stamp of Excellence
Lewis Associates is now with the Association of International Graduate Admissions Consultants' and has their Stamp of Excellence, which is issued based on education, professional experience as a graduate admissions consultant, and commitment to the AIGAC's principles of good practices.


Progress
Advisees applying for the entering Class of 2008 are making fantastic progress. 92% of Lewis Associates 2008 Applicants are interviewing! And, 80% are accepted into medical or pharmacy school, 3 into their top choice school! Our advisees are doing wonderfully. Congratulations to all!
If you are interested in personalized advising from "The Best in the Business," (quote by Dr. Patrick Linson, Harvard Medical School Alum who is the only Native American Radiation Oncologist on the planet!), call Lewis Associates today to schedule YOUR personal assessment. . Dr. Lewis invests in you, so you may live up to your potential to be the best applicant you can be!
Dr. Lewis' note: Dr. Linson has just installed the newest, most advanced Radiation Surgery machine in the world in his Vista, California, medical office…even a step up from the ones at Stanford and Harvard! Congratulations to Dr. Linson. Click here to see the news video.
Mailing Address 1885 Laguna del Campo, Templeton, CA 93465
Phone 805-226-9669 and 805-237-7656
Fax 805-226-9227

Lewis Associates absorbs Long Distance Charges
All appointments/phone conferences are made from our office to you. Meagan, our Administrative Assistant, calls YOU at your appointment time.
Changes in Services
After September 1, 2008, Year-Long Packages will be discontinued for new Advisees. If you are considering long-term advising, this is the year to lock in your Advising Agreement with us.
After September 1, 2008, Applicants will still be able to select from our highly effective Assessment, Essay, Hourly, and Interview Packages.
Current Advisees will continue working with Dr. Lewis until Matriculation.
Where are you in your journey to a health profession?
In high school? (yes, we advise high school students, particularly, those interested in BA-MD programs)

Just starting college? This is a scary time. Everything is new…how do I meet all those new expectations?

Moving into your difficult upper division sciences as a junior? Possibly, the "dreaded organic chemistry"…

Re-entering as an "older" non-traditional student? Re-establishing academic discipline…

We help prepare those of you submitting applications for medical and dental residency programs, too!

Whatever niche you fit, we advise students just like you.

Are you REALLY ready to apply for the Class of 2009?
How do you know?
Use our Personal Assessment--and you will be given your personal strategy and path to your future!

Many whom I advise may not yet be ready and need to develop some aspect of their background to become competitive. Best to apply when you are ready, be competitive, and do it ONLY ONCE!

Let's work together to make that one-time application successful…earlier is better so we can develop your strategy and address all those difficult problems…months or years prior to application. Why not set yourself up for success, rather than toy with the proposition of failure?

Testimonials
Ariel Chairez, Scholarship Awardee, University of Wisconsin Medical School Class 2004
Dr. Lewis, I would like to thank you for all of your help. I have decided to attend the University of Wisconsin and have withdrawn my applications to other schools. I will be taking anatomy in the summer to lessen my course-load the first semester. Without your guidance, I would not have been accepted into medical school this year. Though at times I questioned your instructions, the advice you have given me has definitely worked out for the best.
I am extremely happy to have been accepted to one of the top medical schools in the country, and to have received a scholarship of $130,000. For any student who questions the value of your services, I can say that you have saved me $130,000 in tuition! If I can help you in any way in the future, I would be more than happy to do so.
Thank you, Ariel Chairez
John Fiszer, University Of Illinois at Chicago College of Medicine Class of 2005
Dr. Lewis' note: John was an Assistant State's Prosecuting Attorney in Chicago, Illinois, when he contacted me in 2004. Now in his 3rd year of medical school, he says: "I am really enjoying med school, and I am thankful to Dr. Lewis for her help. Her methodical, disciplined approach to the med school application process, as well as her insight into the transition to med school were right on target."
Anonymous Advisee, Class 2008, accepted to Southern Illinois University School of Medicine
December 6, 2007
"I am very happy that my dream is coming true. I could not have come to this point without all of your encouragement and support. Thank you for reviewing all of those secondary essays, and for everything that you do on my behalf."
Thanks from Lily Marouf, Sackler University Medical school (Tel Aviv) Class of 2007
"Dear Dr. Lewis, Thank you for all of your help the past year. It was one of the most challenging years of my life, and I could not have been successful without you. I appreciate all of your support and patience, and look forward to sharing many memories with you when I come back to the States. Love, Lily"

Track Record
CLASS OF 2007... 97% acceptance to medical, dental and MS/MPH programs, one Class of 2007 applicant accepted into 2008 Class and all applicants accepted into medical and dental Residency programs of their choice.

Be Competitive
In order to be a competitive Class of 2009, or 2010 applicant, you need to submit a quality application as evaluated by your clinical, service and other experiences and your GPA/MCAT/DAT/GRE, etc. profile--in a timely fashion. This requires a well thought-out strategy to carry you through the difficult year-long application process. If you use Dr. Lewis' advising, we begin preparation early in the year BEFORE submission of your application!

EARLY is always better, removes much pressure, and allows time to solve unforeseen problems and challenges.

What are your chances?
If you want to change your career, or reach your present career goal, but do not know how to begin, or how to jump over all those hurdles, Lewis Associates will advise you and implement strategies to change your life.

Getting Started
Read about Dr. Lewis doing your Personal Assessment on our website, then phone or email us to get started! We spend on average 7 hours developing an effective strategy of taking you from where you are to where you want to be.

You may be like our other Lewis Associates Advisees--highly motivated and intelligent, but needing focus, guidance and specific technical expertise. Dr. Lewis solves problems for her Advisees and finds opportunities for them. Or you may wish to use hourly advising to solve one specific problem.

Dr. Lewis is a trained Biologist, having taught and directed her own research programs for many years at two universities. She earned two postdoctoral fellowships (one at NIH), received the 1990 NACADA Outstanding Institutional Advising Program in the U.S. and directed her own Health Careers Opportunity Program grant for 6 years, bringing $1 million to her university.

If you are serious about making your dreams to become a physician, dentist, physician assistant, veterinarian, optometrist, podiatrist, naturopathic physician, or pharmacist a reality--Lewis Associates can help you. We have made the difference for almost 800 alumni now practicing in medicine the last 23 years.

Dr. Lewis teaches Professionalism, Leadership, and Quality, and sets high standards for her Advisees.

Lewis Associates will save you money and heartache on your preparation and application process.

Contact the Health Career experts! For more information email imaclewis@lewisassoc.com. Call 805-226-9669 to set up your first appointment.
---
news
Featured News
The AAMC's Fee Assistance Program (FAP) which helps defray the cost of applying to medical school and taking the entrance exam is now accepting applications in 2008 for 2009. In 2007, more than 6,000 people applied for fee assistance; about 80 percent were approved or tentatively approved (pending receipt of documentation).
http://www.aamc.org/students/applying/fap/
Attend SUMMA Pre-Med Conference
SUMMA, the Stanford University Minority Medical Alliance, annually hosts one of the best pre-med conferences in the country.
Where and When
Saturday, February 9, 2008
8:00 AM to 4:00 PM
Stanford University Medical School
Come spend the evening with UC Davis Medical Students who are former community college students and currently in medical school. You will be matched with one medical student and spend the evening asking questions, getting advice, and be mentored. From there, you can build a relationship through your pre-med years and into medical school. In the past, many students have built life-long friendships with their mentors and future colleagues.
$5 for non-AMSA ARC Members
Registration at www.AMSAARC.org
Deadline to register is February 11, 2008 at 10 pm
The Age of Loan Drones
http://artvoice.com/issues/v6n51/age_of_the_loan_drones
"Generation Debt:" higher education has put this new generation into unmanageable debt.
Premeds Work Together to throw off Image of Cutthroat Competition
http://www.columbiaspectator.com/node/28323
Advising and Collaboration Make a Difference! Compare this story with Dr. Lewis' Advising
Moving Toward the Day when Justice Just is
http://www.carrborocitizen.com/main/2008/01/16/moving-toward-the-day-when-justice-just-is/
News on health insurance issues including progress and current events
The Relationships Between Doctors, Drug Companies
http://www.jsonline.com/story/index.aspx?id=706105

ED wait times increasing, even for AMIs, other emergent cases
http://www.ama-assn.org/amednews/2008/02/04/prsc0204.htm
AMA takes uninsured campaign nationwide
http://www.ama-assn.org/amednews/2008/02/04/gvsa0204.htm
Senate Finance panel developing 18-month Medicare pay package
At the same time, MedPAC calls for physicians to receive a 1.1% raise
next year.
http://www.ama-assn.org/amednews/2008/02/04/gvl10204.htm

links

What groups does NIH consider to be in need of a special recruitment and retention plan in order to diversify the biomedical, behavioral, clinical, and social sciences workforce?
http://grants.nih.gov/training/faq_diversity.htm#A3
Hospital Execs Slam United Health: "Sociopathic Willingness to Ignore Laws"
http://www.dailykos.com/story/2008/1/12/9315/60446/970/435333
Find these and other useful links on Lewisassoc.com's Links Page.
---
alumni updates

Dr. Patrick Linson
Radiation Oncologist
Dr. Patrick Linson
Class 1993 (Harvard Medical School)
U-Tube Video of Cutting edge Cyberknife for Radiation Oncology
http://www.10news.com/video/15007908/index.html?taf=sand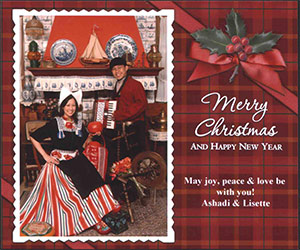 Lisette Oei-Kabul
Pharmacist
Dr. Lisette Oei-Kabul
Class 2003 (Oregon State Pharmacy School)
"Dear Dr. Lewis,
Hope this email finds you well! We wanted to wish you and your family a very Merry Christmas and Happy New Year! May the year bring you lots of happiness, love, success, and prosperity! Our best wishes are with you always. The attached picture is of my husband and me visiting family in the Netherlands last October. We got the opportunity to travel Europe for a couple of weeks, which was very nice.
Just a little update from me...a lot has changed! I graduated from pharmacy school (yay!) last June and passed my license and law exams with flying colors. I continued to work for Sav-On Albertsons pharmacy upon graduation. I initially began working for the company as an intern after my first year of pharmacy school and stayed on board with them working part-time throughout the school years. Once I passed my pharmacy exams, I finally started working as a pharmacist.
The hard work and years of schooling (which flew by!) had finally paid off! Working as a pharmacist was so rewarding as I felt that I could truly make a difference in people's lives. The retail experience was quite interesting. In the beginning, it was rather tough having to stand for 12 hours from closing to opening. The toughest part for me was that I was working as a floater. Walking into a different store each day, working with different techs each shift, and dealing with different customers unfamiliar with me. My pharmacy experience was great!
I have now moved to Jakarta Indonesia with my husband. We've already been here for several weeks and I'm adjusting well. I'm so excited to be here and start/build a family. As far as my pharmacy degree goes, I will definitely keep my license active. For now, I am not planning to work as a pharmacist so soon yet. I am currently helping my husband with his family business while adjusting to the culture and new living environment, which is so different from the US, like a flip of a coin. In the future, I will start looking for ways to use my degree. Hope you are doing well! Take care and happy holidays again.
God bless,
Lisette"

Graduation – Yale PA Program Sept 13, 2004
With the Family
Physician Assistant
Shannon Heaton-Murillo
Class 2002 (Yale Physician's Assistant Program)

"Dear Friends and Family,
Many months have passed since the Murillo's have sent you an update email. We apologize, but it has been a busy year for Joe and me. Since our wedding last October, we have been planning and making some major changes. I began a new job at Yale New Haven Hospital caring for patients in the inpatient setting while Joe concentrated on his studies. During the year, we enjoyed spending time in Wyoming and Denver with our dear friends the in Key West for a wedding and in Salem Massachusetts for another wedding.

Although it sounds like the year has been all fun and games, Joe worked very hard to prepare his application to Physician Assistant programs. He was accepted to a several programs and decided take a position at South University in Savannah, GA. The last few months have been spent preparing for our move to Savannah and spending time with our great friends in Connecticut. We did get a chance to go home to California for the holidays during this madness, and spent much needed time with our families.

After our visit home we (or should I say Joe) packed up our little New Haven apartment for our move to Savannah.

We arrived in Savannah January 4th after a 17 hour 2 day drive. Joe started his orientation week at South U this Monday. He is enjoying meeting his 60 classmates, and I have been lucky to meet many of them, as well. They seem like a great group. I start my new job as a Rheumatology (the study of joints) Physician Assistant next Monday.
We look forward to having visitors when we are a little more settled.
With much love,
Shannon and Joe Murillo"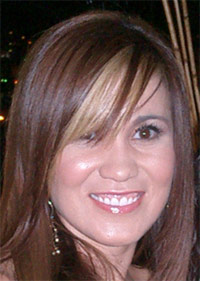 Dr. Norma Ramirez
Dentist
Dr. Norma Ramirez
Class 2000 (Case Western Reserve Dental School)

Dr. Norma Ramirez, Class 2000, DDS has opened her own private dental practice in San Diego, while she is also filling in for her colleagues.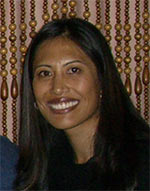 Dr. Christie Martinez
Dentist
Dr. Kriston Gallipeau
Class 1994 (UCSF Dental School)

Dentist, Dr. Kriston Gallipeau, Class 1994 (UCSF Dental School) has just had her second Daughter, Estrella (on Dr. Lewis' birthday--YAY!).
Dentist
Dr. Christie Martinez
Class 1995 (UCSF Dental School)

Dr. Gallipeau's partner, Dentist, Dr. Christie Martinez, Class 1995 (UCSF Dental School), gave birth to triplets: Dean, Zac and Giana on New Years Eve.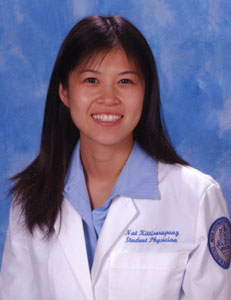 Nat Kittisaraong
Medical Student
Nat Kittisarapong
OMS II, Nova Southeastern University, Osteopathic Medical School

"Hi Dr. Lewis,
I hope this note finds you well. I heard about the fires awhile back, and am wondering if you are okay. I hope that you and your family are well and had a wonderful holiday. School has been going great for me and 2nd year is almost come to a close. I am currently an academic society president. I was the SGA secretary last year, and am currently in the Sigma Sigma Phi honor society. I am going on a mission trip to Guatemala in 2 weeks. It should be exciting.
Take care,
Nat Kittisarapong"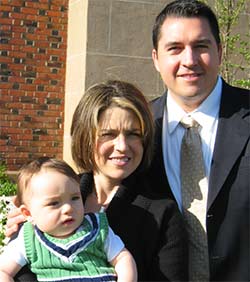 Dr. Sam
Plastic Surgeon
Dr. Sam
Class 1996 (UCSF Medical School)

"I finish my plastic fellowship in June and matched to a craniofacial fellowship at the Boston Children's Hospital/Harvard Program. It is a year-long fellowship focusing on cleft lip and pediatric plastic surgery."

Watch for the Success Stories coming for these alumni!
---
success stories
Rural Basketball Star in Medical School: Rob Keller
Michigan State University, 1st Year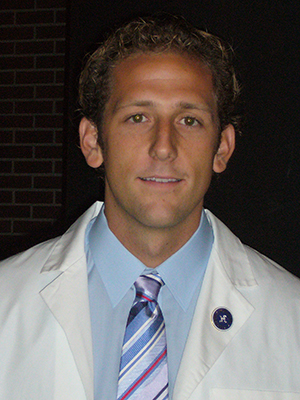 Rob Keller
I am a first year medical student at Michigan State U College of Human Medicine and getting into medical school was quite a journey for me. I grew up as a normal guy, playing sports in a low income suburb of San Diego. I was lucky enough to work hard and get into Washington University in St. Louis, where I was a pre-med and an NCAA Division 3 varsity basketball player. After graduating, my plan was to take a year off, spend the year applying and working in a clinical research lab, then go to medical school the following year. Things didn't turn out how I had planned.
During my first application cycle, I did everything on my own (applications, secondaries, etc.). I thought I was a pretty competitive candidate: Captain of an NCAA collegiate basketball team, went to a highly competitive undergraduate school, ok MCAT score, research and clinical shadowing experiences. Well, long story short is that I applied to over 30 schools, and I did not receive one interview invitation. I didn't even receive an invitation to do a secondary for any of the UC schools. After this process, I was frustrated, upset, and questioning where I was in my life.
I was then introduced to Dr. Lewis. She saw what I knew the admissions people at these schools hadn't, but even more importantly, she knew how to present them so I could get the real me out there. We highlighted my educationally and financially-disadvantaged background, my leadership in sports, my rural roots, and always stayed one step ahead of the process. By the end of my 2007 admission cycle, I went from previously no interviews and secondaries to 5 interviews, secondaries from every UC where I applied and, most importantly, an acceptance to MSU CHM!
I am currently starting my second semester in medical school and am finding great academic success. My scores are around the top 20% of my class, and I am enjoying myself everyday. I am even part of the Admissions Committee here, so I can try to help people like myself get admitted to medical school, not just those nerdy gunners with huge scores and no lives. I owe a lot to Dr. Lewis. Without her, I would probably not be living my dream to become a doctor. She understands the process, she's great at what she does, and she is successful. This process can be rough; it was for me. But, I put my trust in Dr. Lewis, and now I am on my way to becoming an Orthopedic Surgeon, and living my dream.
Rob Keller
Note from Dr. Lewis 1/28/08:
Rob was understandably confused when he came to my office for his Personal Assessment after an unsuccessful Allopathic application the year prior. He did not recognize some of the disadvantages that he had overcome to attend a very academically-competitive university, or that he was academically under-prepared as well as over-committed with his 40 hr/wk basketball training and game schedule. Since Rob was so smart, by the time he was a college senior, he had figured out how to schedule his studying on planes and buses enroute from games and how to use all his academic resources wisely. However, that meant that although he had an upwardly-mobile GPA, it was still low for allopathic medical schools. We also knew that he could improve his MCAT scores and take postbac classes to improve his GPA. We did, and his MCAT increased 3 points and his PB GPA (separated on the AMCAS and AACOMAS) was a 4.0 in sciences. Rob did several more service-oriented activities that he cared about, like Mentoring youth, and coaching basketball. This time, he was successful! Go Dr. Keller!
Email to Dr. Lewis if you wish to communicate about medical schools or other issues or to contact those profiled in Success Stories: imaclewis@lewisassoc.com
---
question of the month
By Dr. Cynthia Lewis, PhD

What can go Wrong with Secondaries?
We are taking time off from the Association of American Medical Colleges Professionalism Assessment (last question about professionalism was in July 07).
This month, my Class of 2008 applicants are interviewing, and some are still completing a few secondaries, while and others are petitioning for interviews or providing updates to improve chances for acceptance.
Question: Does it matter if I submit a paper or electronic secondary application?
And, does it matter if I don't submit my secondary for a month or more?
OK…that is 2 questions. Here is an example of what can (and did) go wrong with a secondary.
A quite strong applicant (GPA/MCAT profile) submitted his AMCAS in a reasonable time frame, and after encouragement from me, his AACOMAS, although by that time it was a month later in mid-August. When requests for secondary applications came in, the applicant was completing his last term of college in the fall, and felt overwhelmed with and not up to the task of responding to secondaries.
Part of that feeling of being overwhelmed was due to applying to almost 40 allopathic programs (due to prodding by parents), which I advised was waaaaay too many (and, of course, many were not good matches and would not give serious consideration to the application)….in other words, a "waste of time and money".
His response to feeling overwhelmed was to delay submitting secondaries. So, even though most of the 40 allopathic programs requested secondaries in July and August, he did not even begin to respond to most until October, November and December. Each one seemed to be a struggle to write.
And, by January, he decided he would take the Osteopathic programs seriously (requests for secondaries had been received by September). One secondary application was sent by snail mail with the directions in bold: "submit your secondary application online". The applicant did not pay attention to the directions and hand wrote the secondary, which was eventually sent back to him to redo, losing more time.
Comments by the Dean of Admissions: "It's been over a month since this applicant was told he was eligible to submit a secondary, and WE don't have it in his file, so I suspect that he has other options in mind. Too bad, because he looks like a good candidate."
Later, after the applicant called the school, the dean said, "He received our secondary he submitted to us back, and wanted to know why. It was because he cannot follow clear directions. At the top of the application (in bold type) it says that the application must be typed or filled out online and printed out. We do not accept handwritten secondary applications. That explains why it wasn't in his file when I looked. It was sent back to him. He does not care enough to do it professionally, and I've already wasted too much time on him. He should save the $100 secondary fee!"
The moral of the story: EVERYTHING counts.
Follow directions.
Ask questions,
Do everything "early"……!!

We will feature an important question each month. Please submit one that interests you for Dr. Lewis to answer. Send your questions to imaclewis@lewisassoc.com with 'Newsletter Question' in the subject line.
---


The Association of International Graduate Admissions Consultants' (AIGAC) Stamp of Excellence is issued based on education, professional experience as a graduate admissions consultant, and commitment to the AIGAC's principles of good practices. AIGAC exists to define and promote professional excellence in serving graduate and professional school applicants worldwide.
---
lewis associates advising services
Lewis Associates specializes in personal, effective and professional premedical advising and placement for traditional and non-traditional applicants. Often, non-traditional students are older than 21 years of age, career changers, international applicants or second-round applicants for admission to health professions school.

Lewis Associates' services meet the needs of all types of students from pre-applicants to applicants, including hourly advising support for specific needs. Click here.
---
contact
"It's never too late to be who you might have been."

If this is how YOU feel, then, maybe Lewis Associates is the place for you. Lewis Associates provides Mentoring and Coaching through the rigorous and often circuitous pre-health preparation and application process. Other consultants may support programs like Law and Business or graduate school -- not Lewis Associates. We are the experts in Health Professions based on 23 years of a successful track record.
Call or email today to set your first appointment!
805.226.9669 imaclewis@lewisassoc.com
---
Copyright 2009, Lewis Associates. All rights reserved. Please do not repost on any website without direct permission from Lewis Associates.
Please feel free to forward this newsletter to any friends, classmates, or colleagues you feel would find its contents beneficial.