Lewis Associates e-Newsletter
Volume 8 Issue 9
September 2009
Published by Lewis Associates. Dr. Cynthia Lewis, PhD., Editor
Email imaclewis@lewisassoc.com with your comments. Enjoy!
Health care bills in the U.S. Congress, town hall meetings, facts, misrepresentations, politics! What do you think?
As a pre- health student, you MUST engage yourself in understanding what is happening in health policy as it unfolds in 2009. Read a daily or weekly online or print national news source. Have an opinion and be ready to back it up with facts! "I am too busy" is not an option for serious pre- health students!
Weekly - American Medical News
Daily - The Washington Post
Daily - The New York Times
Health reform and AACOM public policy issues
Kaiser Health News
Medical Education Futures Study
New England Journal of Medicine: Health Care Reform 2009
Reuters - Health and Fitness News
RWJF - Health and Health Care Improvement
Politico - Politics, Political News
See Dr. Lewis' answer to this month's question on Facebook: The most common secondary Application Question: Why are you applying to "our" school?
This is "Secondary Season", when applicants (currently Class 2010 applicants) will be writing essays for secondary (supplemental) applications. See this month's Q&A to get some perspective.
Getting into medical, dental, pharmacy and the other health professions schools is getting HARDER!
As usually happens in an economic downturn, more people are attracted to stable careers like the health professions…competition is fierce!
How are YOU going to stand out from thousands of applicants?
Warning about student-run websites from Cornell Medical School Admissions staff:
"PLEASE do not encourage students to get information from web sites administered by other students. From time to time, I look up the studentdoctor.net site (for interview ratings) and I am appalled at the amount of misinformation there. Most of the information given there will hurt students more than help them."
Sick of rumors and false reports? Lewis Associates website has factual information that you can trust.
What's inside:
Welcome to Success Stories Newsletter!
How to Communicate With Us
Changes in Services
Your journey to a health profession
Are You Ready for the Class of 2010?
Testimonials
Track Record
Be Competitive
Getting Started

Breaking News:
• AMCAS statistics as of July 31st for Entering Class of 2010

News:
• White House redirects health reform spotlight to insurance abuses
• Journalists Left Out of The Debate
• KCUMB-COM Plans Expansion to Southwest Missouri
• Western U/COMP Breaks Ground for Northwest Site
• MSUCOM Students Travel to Dominican Republic
• OU-COM Offers Physician Diversity Program for Minority Students
• RVUCOM Announces New Health Professions Loan Program

Useful Links
• Osteopathic Medical Student Profiles in their Own Words
• Schools and Colleges of Optometry Admission Requirements 2009-2010 handbook

Office Updates
• Marcia's son enters medical school

Alumni Update
• Glenn Valenzuela MD, Entering Class of 1999, Stanford University, Anesthesiology Residency and Pediatric Anesthesia Fellowship at Stanford University.
• Matthew Landon, Entering Class of 2009, The Uniformed Services University of the Health Sciences

Success Story of the Month
• How Having Goals Make the Difference! Greg, Entering Class of 2009

Question of the Month
• The most common secondary Application Question: Why are you applying to "our" school? See Dr. Lewis' answer to this month's question on Facebook.
---
Nearly one in ten Americans ages 20 to 24 is unemployed. But, health care jobs remain an economic bright spot. The U.S. Department of Labor expects the health sector to add more than 1.4 million workers over the next ten years. Students in college and even high school can start preparing now for a rewarding health career.

Are you ready?
Our Track Record
Entering Class of 2009...96% acceptance
Entering Class of 2008...96% acceptance
Entering Class of 2007...97% acceptance
Entering Class of 2006...89% acceptance
Entering Class of 2005...100% acceptance
Entering Class of 2004...100% acceptance
We have restructured our Advising package so you can become competitive during the entire application process!
Our one year package addresses ALL preparation and application activities, no matter when they occur for you. We advise all applicants to begin preparation for their application process at least 18 months prior to expected matriculation . But, real preparation to become a strong, competitive applicant starts when you enter college (and even before!) So, get started NOW!
If you are interested in personalized advising from "The Best in the Business," (quote by Dr. Patrick Linson, Harvard Medical School Alum who is the only Native American Radiation Oncologist on the planet!), call Lewis Associates today to schedule YOUR personal assessment. Dr. Lewis invests in you, so you may live up to your potential to be the best applicant you can be!
Phone: 805-226-9669
Fax: 805-226-9227

Mailing Address: 1885 Laguna del Campo, Templeton, CA 93465

Lewis Associates absorbs Long Distance Charges
All phone conferences are made from our office to you. Marcia, our Administrative Assistant, calls YOU at your appointment time.
Changes in Services
Where are you in your journey to a health profession?
In high school? Yes, we advise high school students, particularly, those interested in BA-MD programs!

Just starting college? This is a scary time. Everything is new…how do I meet all those new expectations?

Moving into your difficult upper division sciences as a college junior? Possibly, the "dreaded organic chemistry"…

Re-entering as an "older" non-traditional student? Re-establishing academic discipline…

We help prepare those of you submitting applications for medical and dental Residency programs, too!

Whatever niche you fit, we advise students just like you.

Are you REALLY ready to apply for the Class of 2010 or 2011?
How do you know?
Use our Personal Assessment--and you will be given your individual strategy and path to your future! Then, if you use our advising, we help implement your strategy! ! If it were easy to do, all applicants would be accepted...and, that is not the case.

Many whom we advise may not yet be ready, and need to develop some aspect of their background to become competitive. Best to apply when you are ready, be competitive, and do it ONLY ONCE!

Let's work together to make that one-time application successful…contacting us earlier is better so we can develop your strategy and address all those difficult problems…months or years prior to application. Why not set yourself up for success, rather than toy with the proposition of failure?

Testimonials
David and Maureen Lee, Eric Lee's parents, Entering Class of 2009, Saint Louis University School of Medicine
June, 2009: "Dr. Lewis, We just wanted to drop you a quick note to say thank you for all of your strategic guidance, wise counsel, encouragement, and mentoring to our son Eric on his journey to get into medical school. That is quite a process!! Eric definitely took the "road less traveled", majoring in philosophy, but he worked really hard to get his science prerequisites under his belt. He benefited so much from your experience, insight, and when needed, "tough love". You kept him on track, and we thank you. We think he will be an excellent physician. Perhaps some day we will meet. Again with gratitude, David and Maureen Lee."
Michael Nevarez, Entering Class of 2006, Harvard University School of Medicine, his first choice school
"Dr. Lewis was a wonderful guide and mentor as I embarked on a medical career a number of years after graduating from Cal Poly (graduated 2001, applied to med school in 2006). She gave an honest assessment of the strengths and weaknesses of my profile, and more importantly provided specific and personalized ways in which I could address my application and the process going forward. Her advice and experience was invaluable and I am very happy to have worked with her."

Margaret Jolley, Entering Class of 2008, UC San Diego School of Medicine, her first choice school
"I never would've made it without my weekly conference with the calm, experienced Dr. Lewis. She kept me sane. I am so grateful for her guidance, for her editing help, and for the confidence she instilled in me. She is a genuinely caring committed Mentor who takes pride in helping our dreams happen. I have urged every fellow student I know to call her. Let her help you, too!"
Austin Yoder, Entering Class of 2009, Accepted to Uniformed Services University for Health Sciences, Philadelphia Osteopathic-GA, West Virginia Osteopathic, Tennessee Osteopathic, and Kansas City Osteopathic
"I am utterly grateful to Dr. Lewis for all her help, guidance and mentorship through the application process. I owe a great deal of my success to date to her team."
Ariel Chairez, Entering Class 2004, Scholarship Awardee, University of Wisconsin Medical School
"Dr. Lewis, I would like to thank you for all of your help. Without your guidance, I would not have been accepted into medical school this year. I am extremely happy to have been accepted to one of the top medical schools in the country, and to have received a scholarship of $130,000. For any student who questions the value of your services, I can say that you have saved me $130,000 in tuition! Thank you."
John Fiszer (Lawyer), Entering Class of 2005, University Of Illinois at Chicago College of Medicine
Dr. Lewis' note: John was an Assistant State's Prosecuting Attorney in Chicago, Illinois, when he contacted me in 2004. Finishing his 4th year of medical school, he said: "I am really enjoying med school, and I am thankful to Dr. Lewis for her help. Her methodical, disciplined approach to the med school application process, as well as her insight into the transition to med school were right on target."
Ali Warrick, Entering Class 2011 Advisee
"Dear Dr. Lewis,
I appreciate your help in my transfer process to UC Berkeley. You have been an integral part of the transition, and I would like to thank you for your time and efforts. I know that your work is very thorough and well thought out. In addition, I believe that you really care about your students, and believe in each student's "right fit" in a school. You lead many people toward a brighter future, and I would like to say, 'Thank You!' for your contribution toward my academic goals. This process has been much more enjoyable with your guidance. Thank you for being so good at what you do."
S, Entering Class 2008, accepted with full scholarship to Mayo Medical School
"I cannot thank Dr. Lewis enough for her support and invaluable advice. When I came to her, I was apprehensive about the formidable task of applying to medical school especially with my past academic and personal hardships. She helped me see that overcoming these difficulties was a testament to my strength, dedication, and diligence. One of the most surprising outcomes of our relationship was that she was effective in helping me develop a more positive self-image and conquer many of my insecurities. Without her guidance and letter of evaluation, I would not have been able to earn an acceptance to Mayo Medical School, which granted me a merit scholarship that covers almost all of my tuition. I truly appreciate all of her help. She went above and beyond her role as an Advisor by becoming a Mentor to me. She is absolutely the best in the business!"

Be Competitive
In order to be a competitive Class of 2010 or 2011 applicant, you need to submit a quality application as evaluated by your clinical, service and other experiences and your GPA-MCAT/DAT/GRE, etc. profile in a timely fashion. This requires a well thought-out strategy to carry you through the difficult year-long application process. If you use Dr. Lewis' advising, we begin preparation early in the year BEFORE submission of your application!

EARLY is always better, removes much of the pressure, and allows time to solve unforeseen problems and challenges.

What are your chances?
If you want to change your career, or reach your present career goal, but do not know how to begin, or how to jump over all those hurdles, Lewis Associates will advise you and implement strategies to change your life. Dr. Lewis is thorough and professional.

Getting Started
Read on our website about getting your Personal Assessment done, then phone or email us to get started! Dr. Lewis spends, on average, 7 hours developing an effective strategy of taking you from where you are to where you want to be.

You may be like our other Lewis Associates Advisees -- highly motivated and intelligent -- but needing focus, guidance and specific technical expertise. Dr. Lewis solves problems for her Advisees and finds opportunities for them. Or, you may wish to use hourly advising to solve one specific problem.

Dr. Lewis is a trained Biologist, having taught and directed her own research programs for many years at two universities. She earned two postdoctoral fellowships (one at NIH), received the 1990 NACADA Outstanding Institutional Advising Program in the U.S. and directed her own Health Careers Opportunity Program grant for 6 years, bringing $1 million to her university while helping hundreds of disadvantaged students enter health professions.

If you are serious about making your dreams to become a physician, dentist, physician assistant, veterinarian, optometrist, podiatrist, naturopathic physician, or pharmacist a reality--Dr. Lewis can help you. We have made the difference for more than 800 alumni now training or practicing in medicine over the last 23 years.

Dr. Lewis teaches Professionalism, Leadership, and Quality, and sets high standards for her Advisees.

Lewis Associates will save you money and heartache on your preparation and application process.

Contact the Health Career experts! For more information email imaclewis@lewisassoc.com. Call 805-226-9669 to set up your first appointment.
---
---
AMCAS statistics as of July 31st for Entering Class of 2010
AMCAS received over 36,530 letters for 15,124 applicants and in 2009 at this time AMCAS had received 14,658 letters for 6,722 applicants. So far, July has been the highest month in receiving letters for 2010 at over 20,000 letters and last year September was the highest month at almost 17,000 followed closely by October, August and July in that order.
White House redirects health reform spotlight to insurance abuses
An HHS report documents insurance discrimination against members and denials of coverage; insurers counter with report on high out-of-network physician fees.
http://www.ama-assn.org/amednews/2009/08/24/gvl10824.htm
Journalists Left Out of The Debate
Few Americans Seem to Hear Health Care Facts. For once, mainstream journalists did not retreat to the studied neutrality of quoting dueling antagonists.
http://www.washingtonpost.com/wp-dyn/content/article/2009/08/23/AR2009082302173.html?wpisrc=newsletter
KCUMB-COM Plans Expansion to Southwest Missouri
http://www.aacom.org/resources/ome/2009-08/Pages/CampusRoundup.aspx#3
Kansas City University of Medicine and Biosciences College of Osteopathic Medicine (KCUMB-COM) is working in collaboration with Missouri Southern University to lay the groundwork for a new medical education program in the Southwestern part of the state. If the new school receives approval, it will establish partnerships with area hospitals for clinical education opportunities. KCUMB-COM hopes to begin offering seats in fall 2011.
Western U/COMP Breaks Ground for Northwest Site
http://www.aacom.org/resources/ome/2009-08/Pages/CampusRoundup.aspx#13
On June 23, Western University (Western U/COMP) officially broke ground for its new teaching site in Lebanon, Oregon. Western U/COMP graduate Paula Crone, DO, will fill the position of Founding Executive Associate Dean, heading the first class of 100 students in summer 2011. Students enrolled in the school's Northwest Track, from the states of Oregon, Washington, Idaho, Montana, Wyoming and Alaska, will spend their first two years in the new, state-of-the-art, 54,000-square-foot Samaritan Health Services' Health Science Center; the following years of clinical education will be at various sites in the Northwest.
MSUCOM Students Travel to Dominican Republic
http://www.aacom.org/resources/ome/2009-08/Pages/CampusRoundup.aspx#6
Medical students from Michigan State University (MSUCOM) recently joined Reza Nassiri, DSc, Assistant Dean and Director of the MSU Institute of International Health, on a medical mission trip to the Dominican Republic. The group of 18 students treated patients for diabetes, leprosy and other tropical diseases, and also observed an HIV-AIDS clinic. Providing relief for the Dominican residents gave the students first-hand experience in treating and working with patients from a different culture.
OU-COM Offers Physician Diversity Program for Minority Students
http://www.aacom.org/resources/ome/2009-08/Pages/CampusRoundup.aspx#8
Ohio University (OU-COM) has partnered with OhioHealth, a team of non-profit hospitals and healthcare organizations in central Ohio, to offer minority students the opportunity to engage in a mentor program with local physicians. First-year medical students who are accepted into the Physician Diversity Program are paired with an OhioHealth physician of a similar cultural background for four years, receiving annual stipends to cover the program's required activities. After graduation, participating students are eligible to receive a $10,000 annual loan repayment for every year they participate in an OhioHealth residency.
RVUCOM Announces New Health Professions Loan Program
http://www.aacom.org/resources/ome/2009-08/Pages/CampusRoundup.aspx#11
Rocky Vista University College of Osteopathic Medicine (RVUCOM) is now offering a Health Professions Loan Program to current students and applicants with approved credit history. Eligible 2009-2010 students can borrow up to the full cost of attendance, excluding other financial aid they may receive, at a fixed interest rate of 8.5 percent. Loans must be repaid in full within 20 years of leaving the university.
Osteopathic Medical Student Profiles in their Own Words: A snapshot of the Osteopathic Medical Student.
http://www.aacom.org/resources/ome/2009-08/Pages/new.aspx
Insider's look at Osteopathic medical students' personal stories and longitudinal data.
Schools and Colleges of Optometry Admission Requirements 2009-2010 handbook is available online at
http://www.opted.org/i4a/pages/index.cfm?pageid=3446
Resource for prospective students, applicants, pre-health advisors and others interested in more information about the profession of optometry.
Find these and other useful links on Lewisassoc.com's Links Page.

---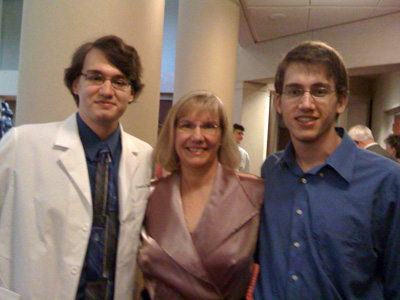 Marcia with her sons.
Leandro Petersen Moraes (Marcia's son), Entering Class of 2009, University of Alabama at Birmingham, White Coat Ceremony
---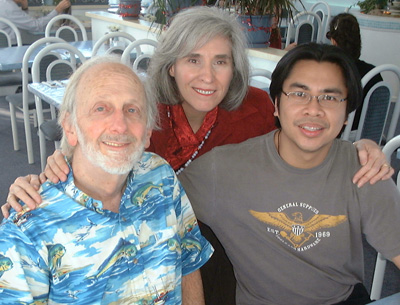 Larry Bennett (left), Dr. Lewis (center) and Glenn Valenzuela (right)
Glenn Valenzuela MD, Entering Class of 1999, Stanford University, Anesthesiology Residency and Pediatric Anesthesia Fellowship at Stanford University
July 27, 2009: "Hi Cindy, I'm wrapping up my fellowship here in 3 days. The graduation occurred last weekend, we're in the arduous process of packing up the house.
The fellowship I'm completing today is a pediatric anesthesia fellowship at Lucille Packard Children's Hospital at Stanford. I accepted a position as a staff anesthesiologist for Medical Anesthesia Consultants (MAC) where we cover several hospitals in the East Bay. So, I'll be responsible for newborns all the way to the other end of the spectrum. It should be interesting...
The kids are following their growth charts nicely. Eneko is now 4 years old, and will be attending a French immersion program in Berkeley. Naia will be attending another preschool (she's only 2) part time until next year, when she'll join her brother. Hope all's well. Glenn."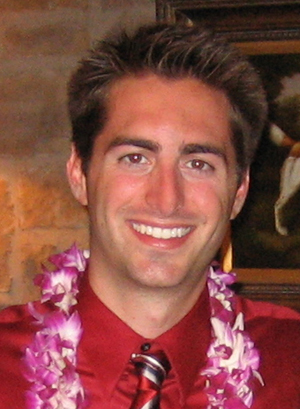 Matthew Landon
Matthew Landon, Entering Class of 2009, The Uniformed Services University of the Health Sciences
August 19, 2009: "Hi Dr. Lewis, I'm loving life here in Bethesda, MD. Fortunately school hasn't started yet so I've had plenty of time to move in and get settled with my wife. We start on Monday and having seen the schedule for next week, we hit the ground running. I have my first biochem exam in a few weeks. Hopefully, all is going well for you. I'll be sure to keep in contact. Matt."

Watch for Success Stories coming for some of these alumni!
---
success story
How Having Goals Made the Difference!
Greg, Entering Class of 2009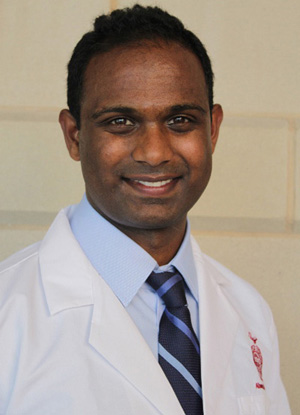 Greg
My path to medicine has been a truly lifelong journey. Growing up in a family filled with physicians, ayurvedic healers and teachers, I was inspired to become a doctor at an early age. My father considers his work practicing medicine to be his "relaxation," and that kind of love for a career truly inspired me. I volunteered at my father's hospital for three years during high school, assisting nurses in the ICU and the ER while shadowing my father and his colleagues in the OR after hours. I was fascinated with my high school biology classes, and I began thinking that medicine would be the career for me.
My initial curiosity matured into a genuine interest, and I began college set on a medical career. However, since my cultural and family expectations to become a doctor were so powerful and so influential --I was concerned that medicine was not my own choice. I knew I couldn't' commit myself to such a long journey unless I was absolutely certain about my choice, which I wasn't. When I got to college, I found that the incredible freedom and the broad diversity of my new friends' career choices led me to try to find a career that evolved purely from my own interests. I spent years systematically testing careers as varied as music production and neuropsychology. I studied abroad and traveled across six continents, searching for inspiration. Though I was still fascinated by the human biology and psychology classes I took, I spent most of college without a clear career goal, making it difficult to find the drive to study and to succeed in my classes. I completed college with a low GPA, and still no career goal.
But, something interesting happened during those last days of college. I got an email that was blasted to every science undergraduate – a "microsurgery internship" was accepting applications at career services. I recalled being slightly disturbed by working with frogs in my physiology lab class, but I thought -- hey, why not give it a shot?
Many people applied, but I was somehow chosen for an interview. The lab manager decided to give me a shot since I had good research experience… and because I had high attention to detail in my resume formatting! Dr. Lee is regarded by many as the father of experimental microsurgery. He performed some of the first clinical organ transplants in America, and he now mentors one or two students at a time in his tiny lab, teaching them how to perform rodent organ transplant techniques that he invented in the 1960's and '70's. Unlike the twitching frog muscles in physiology lab, I wasn't disturbed -- but amazed to see a pale, lifeless heart become a healthy, beating, reanimated transplanted heart. One month later, I was starting my own heart transplant study, stitching blood vessels and reviving tissue under a microscope. I discovered that microsurgery gives me a unique meditative feeling -- a translation of subconscious flow into precise movement. I felt incredible joy in this work – hours focused on my task flew by, and I emerged thrilled by the challenges. The satisfaction of a perfectly rewired blood vessel or a reanimated transplanted heart is absolutely incomparable. At long last, I found a fit -- I would be happy to do microsurgery every day, for the rest of my life. I realized that life spent working in surgery meant that I could finally fuse my long-standing interests in medicine with my newfound love for surgery.

I enrolled in graduate school and took post baccalaureate classes to prepare for medical school while working full-time at the microsurgery lab. I tested if I could deal with extreme situations in clinical care by working at a hospice care center for two years, and I spent time shadowing surgeons donating reconstructive surgery at Fresh Start Surgical Gifts. Because I was at a serious disadvantage from my undergraduate GPA, I worked as hard as I could to excel during graduate school. I earned an A- graduate GPA while co-authoring eight papers and a graduate thesis. I taught physiology laboratory for three years (and I finally got used to the frogs!) I typically worked 70-90 hours per week. Surprisingly, committing myself so fully to all of this work was incredibly easy, since my goal was finally crystal clear.

I finally submitted my application in 2007, though I ultimately did not get an acceptance. Talking to the committee members of schools that had considered my application and evaluated my interviews, I learned what they were concerned about – specifically, the risk of taking an applicant with a low undergraduate GPA. One school noted that I had good patient interaction experiences, though I had spent years volunteering. I thought my strong research science record, graduate school GPA record, and my publications would be enough to merit some serious consideration -- but this was not the case!
The second time around in 2008, I took my application more seriously and formed a plan with Dr. Lewis. I, then, systematically addressed deficiencies in my grades and MCAT score, while Dr. Lewis also guided me to augment my clinical experience. However I found that most US schools were still hesitant despite my improvements. I was beginning to contemplate other pathways to a surgical career, or a similar non-clinical career… but out of the ether, I got a very late 11th hour interview at the end of April, at an Allopathic US school! I spent three weeks preparing with mock interviews with Dr. Lewis, figuring out how to communicate my real level of preparedness, anticipating questions and preparing cogent responses. Ten days after the interview, I had an acceptance letter in my email inbox. Today was my first day of classes, and I am absolutely thrilled to have finally reached my dream. It is simply an unbelievable feeling. I'm extremely excited for all of the extraordinary opportunities ahead!
Greg, MS1
Email to Dr. Lewis if you wish to communicate about medical schools or other issues or to contact those profiled in Success Stories: imaclewis@lewisassoc.com
---
question of the month...see Facebook, Advising Tips tab (link)
By Dr. Cynthia Lewis, PhD
The most common secondary Application Question: Why are you applying to "our" school?
This is "Secondary Season", when applicants (currently Class 2010 applicants) will be writing essays for secondary (supplemental) applications. See this month's Q&A on Facebook, Advising Tips tab to get some perspective.
We will feature an important question each month. Please submit one that interests you for Dr. Lewis to answer. Send your questions to imaclewis@lewisassoc.com with 'Newsletter Question' in the subject line.
---


The Association of International Graduate Admissions Consultants' (AIGAC) Stamp of Excellence is issued based on education, professional experience as a graduate admissions consultant, and commitment to the AIGAC's principles of good practices. AIGAC exists to define and promote professional excellence in serving graduate and professional school applicants worldwide.
---
lewis associates advising services
Lewis Associates specializes in personal, effective and professional premedical advising and placement for traditional and non-traditional applicants. Often, non-traditional students are older than 21 years of age, career changers, international applicants or second-round applicants for admission to health professions school.

Lewis Associates' services meet the needs of all types of students from pre-applicants to applicants, including hourly advising support for specific needs. Click here.
---
contact
"It's never too late to be who you might have been."

If this is how YOU feel, then, maybe Lewis Associates is the place for you. Lewis Associates provides Mentoring and Coaching through the rigorous and often circuitous pre-health preparation and application process. Other consultants may support programs like Law and Business or graduate school -- not Lewis Associates. We are the experts in Health Professions based on 26 years of a successful track record.
Call or email today to set your first appointment!
805.226.9669 imaclewis@lewisassoc.com
---
Copyright 2009, Lewis Associates. All rights reserved. Please do not repost on any website without direct permission from Lewis Associates.
Please feel free to forward this newsletter to any friends, classmates, or colleagues you feel would find its contents beneficial.